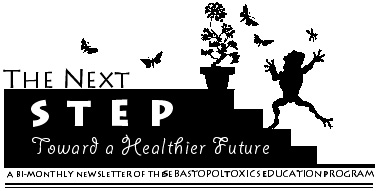 Thanks for your interest in being on The Next STEP Email Announcement List.
With this very low-volume list, you'll get an announcement each time an edition of The Next STEP newsletters is put online. This will includes a direct link to view, download, or forward the newsletter. You'll only get about one email every other month on this list. Your email address is kept confidential and not used for any other purposes. Anyone can signup on this list; they don't have to live in Sebastopol.
Note: This list is part of a larger one that I host for all my writing, including the monthly Ask EcoGirl column. When you go to the List signup screen, you'll be able to choose which lists you want to join. Every email I send out will have a link to that page so you'll always be able to update your preferences.
To signup on this list, just click here.
And please feel free to let me know if you have any questions or suggestions on this process! (My email is: STEP [at] healthyworld.org.)
Best - Patricia
This entire website is (c) Patricia Dines, 1998-2016. All rights reserved.
Page last updated 01/10/13.
http://www.healthyworld.org/EList.html