---
Sebastopol Peak Oil Report Released

---
Sebastopol Peak Oil Report Released
By Patricia Dines
West County Gazette
April 19, 2007
In response to expert predictions of increasing shortfalls in world oil supplies, the Sebastopol City Council established the Sebastopol Citizens Advisory Group on Energy Vulnerability (CAGE) in January 2006. CAGE was tasked with examining how, in the face of these unprecedented challenges, the City could maintain continuity of municipal services on behalf of local residents.
Sebastopol was one of the world's first cities to take formal public action to explore this question (just as it was one of the first U.S. cities to commit to reducing greenhouse gas emissions). A key reason that I decided to volunteer for the CAGE project was this unique opportunity to proactively and locally approach the peak oil problem.
On April 3, 2007, after over a year of focused research and analysis, CAGE officially presented to the Sebastopol City Council the result of our efforts, in our report, "Charting a Path for a New Energy Future for Sebastopol."
The Challenge of Peak Oil
We've all seen oil prices double over the past few years, becoming increasingly vulnerable to world supply threats. This trend reflects a much deeper problem - that global annual demand for oil has increased to nearly equal global annual production, making supplies tight.
The energy appetites of rapidly-industrializing countries such as China and India are expected to continue driving oil demand upwards in the years to come. However, some experts believe that we've reached the global peak capacity for producing oil, and that this production rate could in fact actually soon be declining. This problem is called peak oil. A similar pattern is expected with natural gas. (See chart.)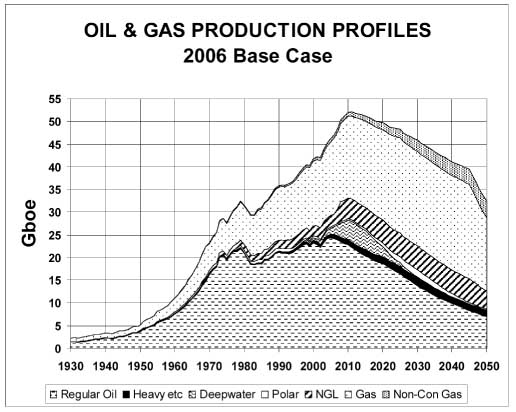 CHART SOURCE: Association for the Study of Peak Oil and Gas (ASPO), February 2007 Newsletter
<www.aspo-ireland.org/newsletter/en/pdf/newsletter74_200702.pdf>
What's the expected result? Increasingly worse oil supply shortfalls, price increases, vulnerability to supply threats, and geopolitical drama around oil.
We're all likely to feel these impacts increasingly throughout the complex systems that support our everyday lives. Our modern industrial civilization is only possible because we've had abundant relatively-inexpensive energy, primarily from fossil fuels. We use this energy to transport ourselves and our goods; to make most of our foods and pharmaceuticals; and to manufacture our chemicals and plastics.
Regrettably, no alternative energy supplies are ready to replace the shortfall. Robert Hirsch, author of Peaking of World Oil Production for the U.S. Department of Energy (also known as The Hirsch Report), calculated that a relatively smooth transition to our replacement energy supplies would require an intensive, large-scale effort for one to two decades before the production peak. This would be needed to both (1) develop and implement new technologies and infrastructure, and (2) significantly reduce our net energy needs to match lower net supplies.
If expert estimates are correct that we're currently at peak oil production, we might not even have that lead time, increasing the need for urgent action. It's also vital that we implement alternatives wisely, for instance recognizing ecosystem limits with biofuels, and avoiding increased use of harmful energy sources such as coal (which contributes to global warming) and nuclear energy (with its enormous dangers of radioactive waste and nuclear proliferation).
The CAGE Report
In the first chapter of our report, CAGE offers a distilled description of these energy supply challenges, their implications, the current alternative energy sources, and the responses of other communities. We also present key models that make it easier to approach this issue constructively - not from despair or wishful thinking, but by understanding the notable risks before us, and choosing a positive solution - to proactively transition to our new energy future.
In the report's second chapter, we analyze the ways that Sebastopol's City operations are vulnerable to these energy supply problems. We highlight helpful City actions to date, such as installing solar panels and increasing energy efficiency. We then encourage the City to even more proactively prepare in two key ways: by transitioning away from a dependency on petroleum energy sources, and by reducing its net energy needs. We offer many specific recommendations for accomplishing this, including passing an Energy Transition Resolution, modifying internal operations, and interacting with the broader community.
The City Council Response
At the April presentation, Sebastopol's City Councilmembers all warmly received the CAGE report.
Councilmember Larry Robinson said, "I want to encourage the Council and members of the public to read this document very carefully, because I think it has some very important information for us and some very valuable recommendations.... I think it's a very important step that we've taken and I really appreciate the work of the committee over this time."
Mayor Sam Pierce seconded those comments, calling the document "an excellent read" which provides a range of action options, and perhaps even offers ideas for other government bodies.
Councilmember Sarah Gurney said, "I'm sure in our future discussions we will find many ways to implement [this report].... There is a value to this report beyond the City's use. [It also] provides us to each of us a lot of information about what we might do individually, and that really is how we're going to change the world."
The City Manager will now make recommendations for the Council's next implementation steps.
The Report Authors
Leading in the report's creation was the CAGE Report Editorial Committee, comprised of myself (as Executive Editor & Report Coordinator), Ed Baumheier, and Michael Kyes. CAGE's other current members are Matt Stevens and Zeno Swijtink.
CAGE appreciates everyone who contributed to this report, with special thanks to: Ken Higgins, Jim Housman, Peter Schurch, Jen Thille, and City Manager Dave Brennan. The CAGE City Council Liaisons were Councilmember Larry Robinson and Mayor Sam Pierce.
For More Information
To download the report and read more about this topic and the report's recommendations, see <www.healthyworld.org/CAGE.html>. The City also plans to put the report on its website.
Quick Link: Download CAGE report (PDF)
Patricia Dines is a local writer specializing in environmental and community issues. She is author of The Organic Guides and President of Community Action Publications. For more information, see <www.healthyworld.org>.
Article (c) Patricia Dines, 2007. All rights reserved.
---

NOTE: For more information about Peak Oil and related issues, see www.healthyworld.org/peakoil.html and www.healthyworld.org/newsblog.html
---
Information courtesy of:

"Information Empowering Action for a Healthier World"


---


We hope this information (and our work) is valuable to you,
and supports the health and well-being of yourself,
your family, our community, and our world.
If it is, please let us know. It makes us happy to hear!
You can support our work and ensure that it continues. For instance, you can link to our site and let others know about it. Or become a CAP member! For more information, click on the "About CAP" button above.

If you find a broken link or outdated information, or want to suggest an addition or edit to this page, please let us know by emailing info[at]healthyworld.org. Please include both the webpage name and the relevant information.

Thank you to everyone who supports our ability to offer this information
to our community, for our planet!


---
This entire website is (c) Community Action Publications, 1998-2007. All rights reserved.
Page last updated 04/16/2007.
www.healthyworld.org/CAGEWCG.html