Media Center

Thank you for your interest in the Goddess Book!

To read more about the book, see "About the Book" and the announcement history below.

To download a graphic PDF press release for the book, click on Goddess Book PDF Press Release PDF. For a text version, go to Goddess Book Text Press Release.

To be informed about the book's news and events, click on Join the Email List.

We do offer review copies of the Goddess book to established media outlets.

To get more information on the book, or request a review copy, email we[AT]healthyworld.org.
---

Patricia Dines with her books and art greeting cards at her Petaluma, CA, book signing.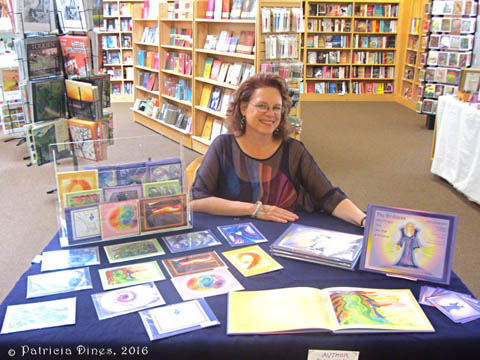 Photo by Raymond Lawrason of Copperfield's Petaluma. Thank you!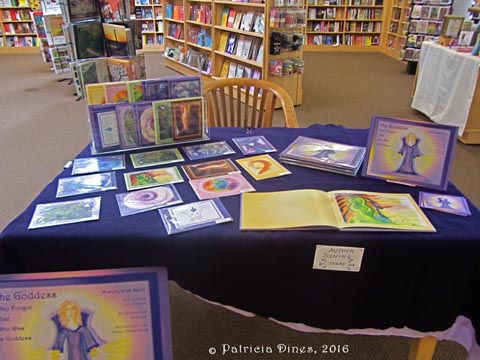 ---
ANNOUNCEMENT, EVENT, & MEDIA HISTORY
(The most recent is first.)
* Give my beautiful Goddess book as a sweet & empowering holiday gift, Dec. 22, 2016
* Goddess book/Goddess Fair this weekend • Holiday sale ends tomorrow! • Recent Gazette article, Dec. 8, 2016
* Goddess book/Holiday sale deadline soon • Beautiful keepsake gift • Plus news updates, Nov. 30, 2016
* "The Goddess Storybook," Sonoma County Gazette, December 2016. You can view either the article in the paper itself OR the online text version of article.
* Press release about Goddess storybook • Enchanting gift idea from local author/artist, Nov. 18, 2016
* Goddess book = Soothing gift • At local stores & online • Holiday sale! • How you can help, Nov. 16, 2016
* We're delighted to have been accepted into the Goddess Crafts Faire, being held in Sebastopol on Dec. 10 and 11, 2016.
You're invited to stop by our booth, check out our goodies, and say "Hi"!
* Goddess Book Events: This Sat. 10/8 (Petaluma) +10/15 (Sebastopol) Copperfield's, Oct. 7, 2016
* Goddess books start rollout to stores; and introducing new greeting cards from book art!, Sept. 16, 2016
* Sept. 15, 2016 Official local book launch date!
* Goddess book blessing event: Pictures and report, Aug. 8, 2016
* Goddess book preview is announced (pre-publication date), June 3, 2016
BOOK INFORMATION
The Goddess Who Forgot That She Was a Goddess
Written & Illustrated by Patricia Dines
Full color with artwork throughout
Available now
Retail price $24.95
ISBN: 978-0-9700941-4-8
Library of Congress Control Number: 2015921339
Dimensions 10.75" wide X 8.25" tall
Pages 64
---
This entire website is (c) Copyright Community Action Publications, 1998-2017. All rights reserved.
Page last updated 8/14/2017
www.healthyworld.org/GoddessBookM.html